ONE POWERFUL HIGH FIBRE FOOD
We are sister Melanie, Teresa and Dina and in 2018, our company Brightside Natural Foods bought O3NC to run together.  We were raised on the Sunshine Coast of British Columbia and the idea of taking over the family run operation from our cousin in Mission, BC made sense. 
We already loved the product and felt the timing was right to expand its distribution and try to strengthen what was already a fantastic high fibre food.  One of the first things we did was become 100% certified organic and move production into a certified gluten-free manufacturing facility.  We also introduced a smaller package size to make it easier for new customers to come aboard.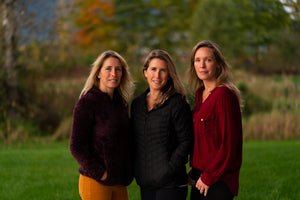 SAME TRUSTED FAMILY RECIPE
Omega3NutraCleanse is derived from an old traditional Finnish recipe, created to address the lack of fibre in today's high-fat/low nutrient North American diet. Our goal has been to make it as effortless as possible to fill this gap. O3NC is very high in fibre, packed with nutrients and because it tastes great in so many everyday foods, it's easy to build into your daily routine.  It helps support your wellbeing, whether you have health issues, or just a desire to feel your absolute best.
Many of our customers have provided incredible feedback on how Omega3NutraCleanse has changed their lives. Please read our testimonials to hear their stories and we welcome you to try our product to see for yourself!